I'm considering getting a motorcycle. The reasons are:
Insurance is cheap – I can get full coverage for about $20/month
Gas – They are generally very fuel-efficient
I can buy a new motorcycle for less than the cost of an OK used car or truck.
I was thinking about a used truck. But, insurance would be more, it would be a lot less fuel-efficient for a daily drive to work, and probably be a lot less reliable than a motorcycle for the same money spent. When I need a truck, I can rent one for $20 from Home Depot or Uhaul.
It has been 20 years since I had a motorcycle. I will be taking the motorcycle safety course. I recommend this for everyone.
For the motorcycle, I am not interested in getting a cruiser style bike. I want something a little more nimble that can handle medium to long distances, and can moderate off-road conditions. After my 1995 Kawasaki Vulcan 500, I want an engine larger than 500CC. The Vulcan could barely get above 60 MPH. But, as I am looking at this as a new rider, I do not want the engine to be to large and powerful. So, I am thinking 650 to a 1000CC. I will probably get a used bike, but would like new (if I can swing it). If I can get a European motorcycle, I would prefer to get one of those. The research I have found shows that they hold their value better than the Japanese motorcycles.
The main purpose of this bike will be commuting from house in the suburbs to my work near downtown Dallas. I will also be using it make day and weekend trips for photography. Some of theses trips may take me down dirt roads and onto unpaved trails. So, some off-road capability will be a good thing.
Taking these factors into account, here are the motorcycles I am considering (in no particular order):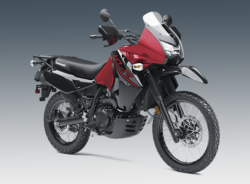 Kawasaki KLR-650: This is the venerable workhorse of the bikes I'm considering. As one friend put it, it is the AK-47 of motorcycles. The overall design is decades old. You have a huge line of aftermarket parts available. Used versions run about $3000. The thing is, the tech is also the most dated on these motorcycles. The engine is not fuel injected. C'mon, even Urals are fuel injected today (a Russian built motorcycle based on a 1930s German design). This is a motorcycle sold as a what is called a dual-sport motorcycle. This means that it is more of a dirt bike that is modified to run on the roads. Yet, it is generally recommended you replace the skid plate on it because it is not that durable. You are also advised to replace the oil drain plug with a low profile one. The stock version sticks out below the skid plate. If I buy one of these it will be used. That should mean most of the recommended upgrades have already been done. This is probably the most off-road capable of all of these motorcycles.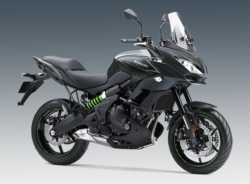 Kawasaki Versys 650: This is a pretty strong contender. It has strong reviews by both long-term owners and motorcycle magazines. It is just a 650 motorcycle with a good reputation for reliability. Leans way more to on road than off-road.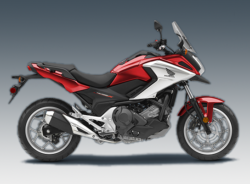 Honda NC700X: This is probably my last choice of all of these motorcycles. It has the least power. But, it has a couple of features I do like. The gas tank is under the seat. This means the center of gravity is lower. In the location of where a gas tank normally goes is a luggage compartment. This is big enough to hold a helmet. That is very convenient for when you are out running around. You can lock your helmet inside instead of carrying it with you. Leans way more to on road than off-road.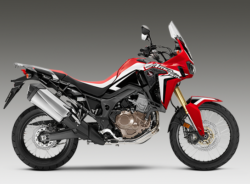 Honda Africa Twin: This is a very well reviewed dual sport/adventure touring motorcycle. I also doubt even a used one, if there is one on the market, will be in my budget. This is bike leans more to off-road than on road.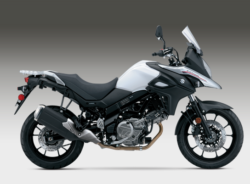 Suzuki V-Strom 650: Slightly more powerful than Versys and better on long trips. It is also the most expensive 650cc engine bike. Leans way more to on road than off-road. Strangely enough, the V-Strom is the most expensive of the 650 Adventure motorcycles.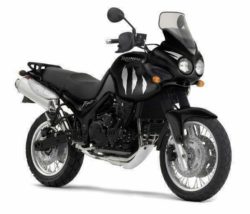 Triumph Tiger: The picture is of an older model. The link is to the new models. This is one that will have to be used. (Link to info on model I will most likely buy.) New bikes are beyond my upper budgetary range. But, they are very nice bikes. It has a very good balance between on and off-road capability. The used bikes in my price range also top out in what I'm wanting as far as engine power.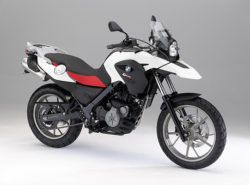 BMW G650, F700, or F800 GS: The BMW G650 GS is my favorite of all of the bikes on the list. It has an under-the-seat gas tank. It also has a very good balance between on and off-road capability. It really is to bad that 2016 is the last year that BMW made the 650.
I will likely come back and add more information as I do more research. Since the KLR 650 was the first bike I considered when I started thinking about this, it is the one I have the most information on. I didn't include any Yamaha motorcycles because I couldn't find any Yamaha Adventure bikes in this size and price range.